NWPCG Monthly Guild Meeting Time has Changed
Zoom meetings until further notice.
New NWPCG Meeting Time:
First Sunday of each month from 12:00pm to 2:30pm, Pacific Time

NWPCG meetings are programs that give us the chance to learn something new or explore a unique way to play with polymer clay. Every 1st Sunday Guild Meeting also has a 'Show & Tell' portion so share one or two of your new polymer clay works and to be entered in our end of the year prize drawing. Be sure to join our guild to gain access to our monthly newsletter which contains upcoming program topics and materials lists.
We have Clay Socials on all other Sundays 12:00pm to 2:30pm
and Clay Socials on Wednesdays, 6:30pm-9:00pm, Pacific Time.
Everyone- members and nonmembers- are welcome.
Join Our Zoom Clay Socials

---
NWPCG All-Day Clay Socials
Our All-Day Zoom Sunday Clay Days in 2023
are 10:00am – 5:00pm, Pacific Time as follows:
February 19th
April 16th
June 18th
August 20th
October 15th
December 17th

To join a Sunday Clay Social, click HERE
Our Clay Days will be held on Zoom until further notice.
---
NWPCG Clay Camp 2023
Clay Camp registration is now closed.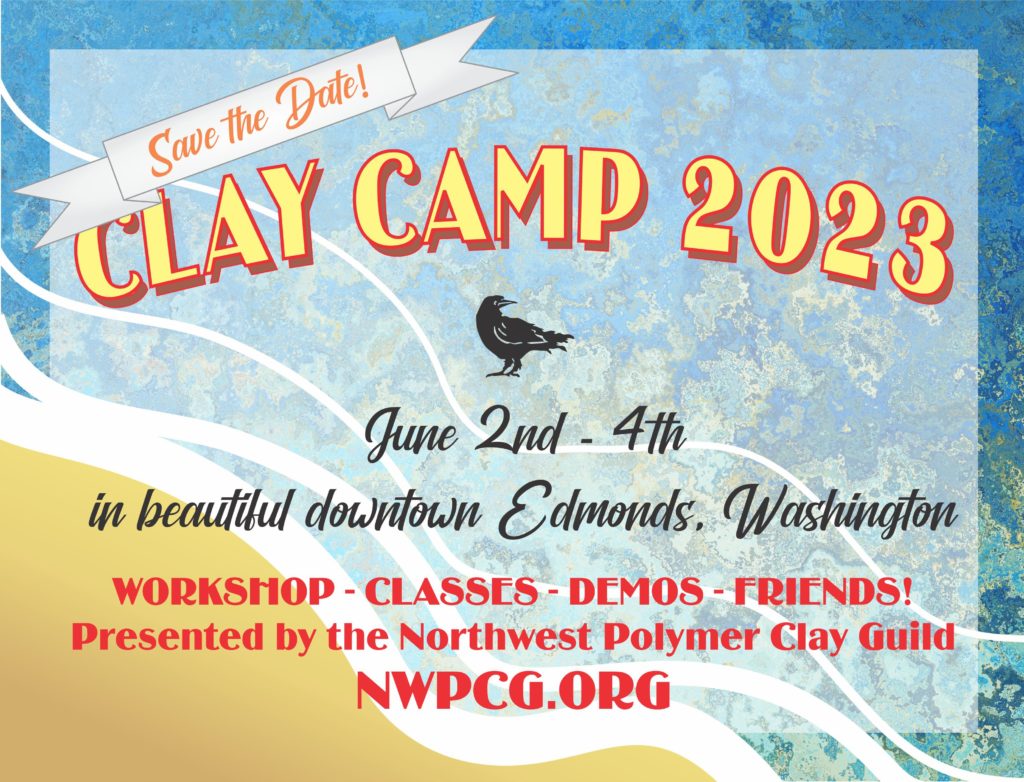 When: Friday, June 2nd to Sunday, June 4th 2023
Where: Artworks- 201 Second Avenue, Edmonds, WA
Registration is now open and space is limited, so reserve your spot early. See our Clay Camp 2023 page for details.
---
Other Outreach Projects
Our primary goal is to share the joy of polymer clay and we do this at every opportunity we get. If you have an event in mind and would like to invite NWPCG, email us HERE.